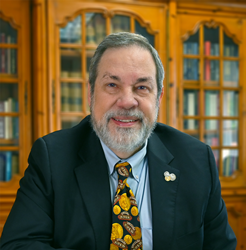 Demand for gold coins and the value of rare coins skyrocket in 2021, reports Universal Coin & Bullion chairman Michael Fuljenz
"The recent volatility of the Dow and Russell 2000 indices is a reminder that gold has been the only form of stable currency that has been proven for over 3,000 years."
BEAUMONT, Texas (PRWEB)
December 30, 2021
Although the price of gold has fluctuated in 2021, public demand for gold bullion coins such as the popular American Eagle series has skyrocketed over the past year, according to Michael Fuljenz, chairman of Universal Coin & Bullion (http://www.UniversalCoin.com) in Beaumont, Texas. Known as America's Gold Expert®, Fuljenz is the 2021 American Numismatic Association Dealer of the Year.
"In the first 11 months of the year, the United States Mint sold over 1.2 million ounces of American Eagles gold, up 51% from the 794,500 ounces sold in the past. the same period in 2020. It's on track for the best year since 1999. We have had a significantly increased interest in gold and silver bullion coins from our current, old and new customers, " Fuljenz explained.
"With increasing federal spending and deficits, along with rising inflation and global uncertainty, I predict that gold prices will return to over $ 2,000 in 2022 and that silver could reach $ 27 an ounce. The market for high quality rare American coins has been extraordinary in 2021 and there is room for further growth, "he added.
"The recent volatility of the Dow and Russell 2000 indices is a reminder that gold is the only form of stable currency that has been proven for over 3,000 years," he said.
Fuljenz, who has taught counterfeit detection courses for the American Numismatic Association, is warning potential buyers of rare bullion and coins to beware of the many fraudulent advertisements appearing on social media sites.
"Some of these platforms repeatedly accept advertisements for counterfeit parts which are typically made in China. If you see an ad offering gold or silver bullion below the actual value of their precious metal content, ask yourself why someone would offer you an item for a price much lower than they could. receive by selling it to a reputable dealer? Be careful, "said Fuljenz, who received an honorary doctorate in human letters from McNeese State University in 2015.
Universal Coin & Bullion President Michael Fuljenz has won dozens of prestigious national and regional awards and accolades for his work in educating consumers and protecting rare coins and precious metals. A respected community leader in his hometown of Beaumont, Texas, Mike has also served with distinction as a consultant to the Federal Trade Commission, the Attorney General of Texas, the United States Mint, and the Royal Canadian Mint. He sits on the boards of the influential National Coin & Bullion Association, Crime Stoppers of Southeast Texas, and is a member of the Accredited Precious Metals Dealer program of the Professional Numismatists Guild.
For more information, visit Universal Coin & Bullion online at http://www.UniversalCoin.com, call 800-822-4653 or contact by email at [email protected]
Share the article on social media or by email: