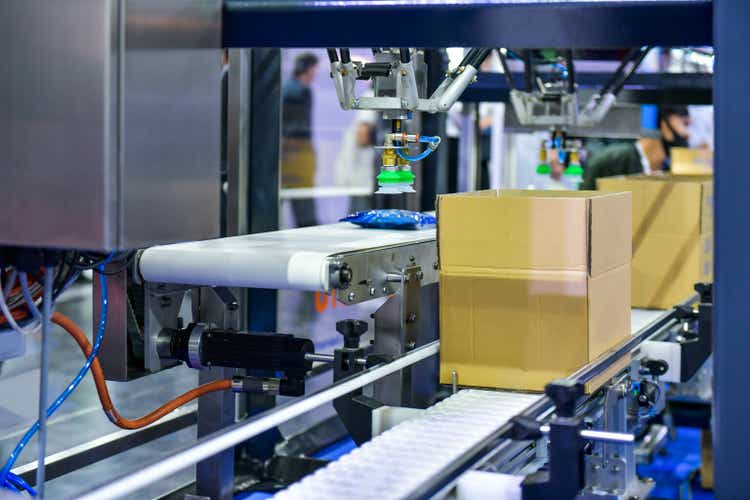 Packaging Corporation of America:
These days, there are a number of packaging companies, some large and some small, that deserve the attention of investors. One such player that leans towards the big guys is a company called Packing Company of America (NYSE: PKG). The financial performance generated by the company in recent years has been rather mixed. But the overall trend for the company has been positive from a cash flow perspective. All things considered, this company seems perhaps slightly undervalued compared to its peers, and is no worse than being fairly valued on an absolute basis. More likely than not, the company is likely offering benefits to investors moving forward.
A major player in packaging
According to management team of Packaging Corporation of America, the company is the third largest producer of containerboard products. It is also one of the leading producers of uncoated fine paper in North America. Currently, the company operates eight different mills and nine corrugated product mills and related facilities across the United States. Structurally, the company currently has three different segments that it manages. The first of these is the Packaging segment.
In this segment, the company sells linerboard and corrugated board. To be more detailed, these are papers that are mainly used in the production of corrugated products. From there, the company then produces various packaging products such as conventional shipping containers, multi-color boxes, protective honeycomb packaging, etc. The company currently sells its corrugated and corrugated board products to approximately 15,000 customers across 33,000 different locations. 70% of its sales are made to regional and local accounts, with the remaining 30% attributable to national accounts. In terms of the overall end use of its corrugated products, the company says 44% is attributable to food, beverage and agricultural products. Another 25% is devoted to retail and wholesale activities. Paper and other products represent 12%, with chemicals, plastics and rubber representing 10%. Miscellaneous manufacturing comprises the remaining 9%. In the past year, this segment was responsible for the production of 4.9 million tons of containerboard. From there, the company sold 65.9 billion square feet of corrugated products. As a result, in the company's 2021 fiscal year, this particular segment accounted for 91.2% of the company's overall revenue and accounted for 97.1% of its positive earnings.
The second major segment of the company is the paper segment. Through this, the company manufactures and sells a mix of paper products, such as basic and specialty papers, with a variety of colors, coating types, brightness and recycled content. This is a considerably smaller segment, with the company selling its products to around 100 customers across 350 locations. In its 2021 fiscal year, one customer, Office Depot, was responsible for 51% of this segment's revenue. That said, this particular segment only accounted for 7.8% of the company's overall revenue for the year and 2.9% of its positive earnings. The last segment of the company is the Business and Others segment. This constitutes the services of the company's corporate support staff. It also includes various transportation assets such as railcars and trucks that are used to transport its products to and from manufacturing sites. In addition, this segment also includes a 50% stake in Louisiana Timber Procurement Company. This particular segment only accounted for 1% of revenue in 2021 and generated a net loss.

In recent years, the company's financial performance has been somewhat mixed. From 2017 to 2018, revenues increased from $6.45 billion to $7.02 billion. Sales then dipped slightly to $6.96 billion in 2019 before dropping to $6.66 billion in 2020 as a result of the COVID-19 pandemic. Luckily for investors, revenue rebounded, then some in 2021, climbing to $7.73 billion. The increase in the total number of products shipped was a major contributor to this revenue increase. Corrugated board production in 2021 was nearly 4.9 million tons. This was up from the 4.3 million tonnes shipped a year earlier. Shipments of corrugated products increased from 62.8 billion square feet to 65.7 billion square feet. Only its paper production suffered, falling from 648,000 tons to 572,000 tons.
The net income trajectory closely mirrored the income trajectory. Net profits fell from $668.6 million in 2017 to $738 million in 2018. In 2020, profits fell to $461 million. But just like with revenue, this decline was short-lived. Net profits in 2021 nearly doubled to $841.1 million. Operating cash flow has been a bit more consistent, dropping from $856.1 million in 2017 to $1.21 billion in 2019. The metric fell to $1.03 billion in 2020, but has fetched some $1.09 billion last year. If we adjust for changes in working capital, the trajectory more accurately reflects what we saw with revenue and earnings. And in 2021, this metric totaled $1.38 billion. The same trend, once again, was visible when it came to EBITDA, with the metric eventually reaching $1.67 billion last year.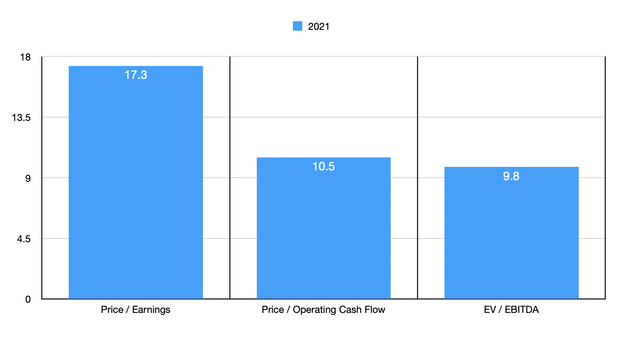 By taking all this data, we can effectively evaluate the company. Using 2021 numbers, I calculated that the company's price to earnings ratio is 17.3. The price to adjusted operating cash flow ratio is considerably lower at 10.5, while the company's EV/EBITDA multiple is 9.8. To put that into perspective, I decided to compare the company to five similar companies. On a price-earnings basis, these companies ranged from a low of 14.7 to a high of 33.9. Meanwhile, on an EV/EBITDA basis, the range was 6.8 to 53.2. In both of these cases, only one of the five prospects was cheaper than Packaging Corporation of America. I then looked at the companies from a price/operating cash flow perspective. This gave me a range of between 7 and 21.1. In this case, two of the five companies were cheaper than our prospect.
| | | | |
| --- | --- | --- | --- |
| Company | Prizes / Earnings | Price / Operating Cash | EV / EBITDA |
| Packing Company of America | 17.3 | 10.5 | 9.8 |
| Sonoco Products Company (SON) | 33.9 | 21.1 | 53.2 |
| WestRock Company (WRK) | 14.7 | 7.0 | 6.8 |
| Graphic Packaging Holding Company (GPK) | 29.4 | 9.9 | 13.0 |
| Sealed Air Corp (SEE) | 20.3 | 14.5 | 12.4 |
| Amcor plc (AMCR) | 18.5 | 13.1 | 11.8 |
Carry
Based on all the data provided, I believe Packaging Corporation of America is a strong company, but one that is certainly not immune to some volatility in its top line and earnings. This volatility, even excluding what we have seen in the wake of the COVID-19 pandemic, warrants a small discount on a valuation basis. That said, recent performance has been impressive and the shares appear to be trading at attractive levels compared to similar companies. That makes me slightly optimistic about the company right now.